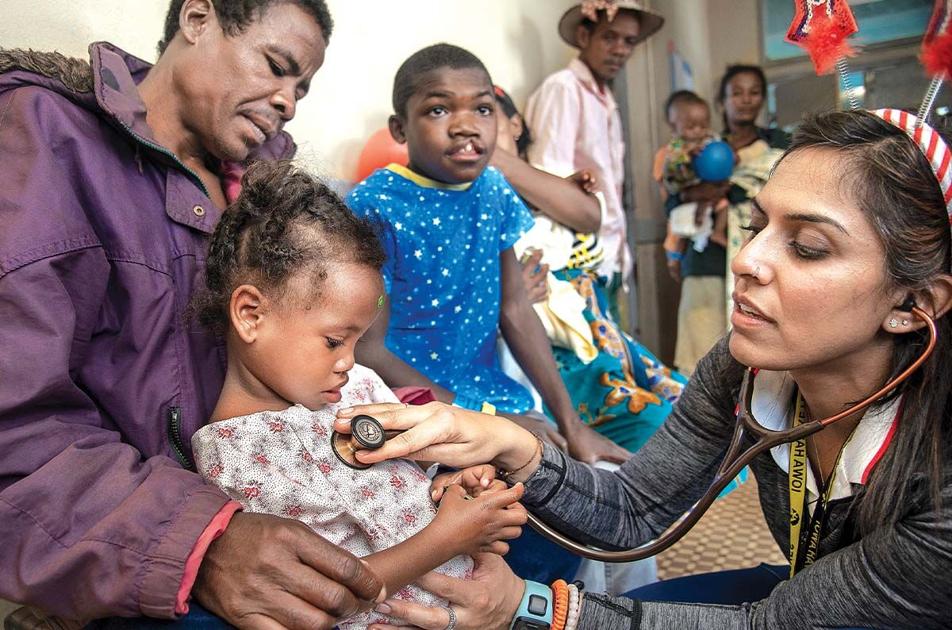 A great traveler, Glendale pediatric hospital Dr. Shelly Batra wanted to try international medicine. When her friend, a specialist in children's lives, introduced her to Operation Smile, Batra said it gave her the chance of a lifetime.
"By the time I discovered Operation Smile, I was going through a difficult time in my personal life," she said of 2014.
"Being able to provide care to people who don't have access to it or don't have the resources has always been something that has always interested me. I never really knew how to go about it. Operation Smile gave me this platform to not only be able to do what I love, but also to be able to do it in an environment that is built on delivering quality care.
Operation Smile is a non-profit organization that helps patients who have a cleft. A cleft lip or cleft palate is a space in the mouth that has not closed during the early stages of pregnancy. Cleft conditions are primarily caused by genetics, medical conditions, or exposure to harmful substances.
According to Operation Smile, every 3 minutes a child is born with a cleft in the world. While this statistic is daunting, up to 9 in 10 people have difficulty accessing basic medical care, such as surgery. This means that many children with a fissure will have to be bullied if their condition is not surgically repaired.
This is where Operation Smile comes in. The association's volunteer medical workers provide care to patients who would not have access to these kinds of procedures in another hospital.
Batra, who sees patients at Banner Thunderbird Medical Center, has experience volunteering but never for a nonprofit medical organization.
"As a kid and teenager in college, I volunteered with other groups, but mostly local things," she said.
Operation Smile is the first nonprofit medical organization she volunteered for. She gave this organization a chance because she wanted to "practice medicine and do what I love to do."
Since she started volunteering for the association, she has completed 11 missions. Batra has visited Nicaragua, the Dominican Republic, Vietnam, Morocco, Ghana, Madagascar, the Philippines twice and Mexico three times.
Although Batra has said that all trips are special, his three main missions are Vietnam, Morocco and Ghana. The missions to Morocco and Ghana were very informative.
"I had the opportunity not only to learn new things myself, but also to teach local and international doctors how to manage the pre and postoperative care of our split patients," said Batra.
The trip to Vietnam was Batra's second mission with Operation Smile. It was a MEGA mission, in which several medical teams in different cities across the country perform surgeries on patients with a cleft during the same week.
"It was so amazing to see all of these people from all over the world coming together for this unique mission," said Batra. "It was long, hard, tiring and hot. But the smiles were worth every minute.
Operation Smile is multi-faceted, she said. Not only does it provide medical care for patients with clefts, but it also has nutrition, speech therapy, and dietetic services to help its patients before and after surgery. Batra is one of the medical providers training future volunteers for Operation Smile.
"I will be training medical residents and fellows to maintain the queue," Batra said.
Batra is a hospital pediatrician who works with many newborns.
"Sometimes we get families who didn't know they were going to have a child with a cleft lip or palate or any sort of craniofacial disease," Batra said.
When this situation arises, Batra refers patients to its Operation Smile network if patients cannot seek treatment locally.
"Having a network of people to refer to is a huge asset for me. And then in turn becomes an asset to my patients, "said Batra.
Patients with clefts require several follow-up appointments after surgery. Many times, medical volunteers will keep in touch with their patients.
"The good thing is that your patients recognize you. They will remember you, "Batra said.
While Batra enjoys volunteering for Operation Smile, she would love to see more people do what they love.
"If you plan to do something on a regular basis, do it. Do not wait. Don't go go and collect $ 200, "said Batra. "Life is too short to miss an opportunity to help others."